Brief
The user can visit the Liquor store by signing up for the VR application. It comprises multiple shelves organized with liquor but is not customizable. The store owner can arrange various liquor products on the shelves as per the choice. As the user registers, all of the details like name, address, and mobile number are stored for the checkout process and invoice generation. The invoice is sent via email after the final shopping.
Each similar product is considered as a different number in quantity. Each of the items in the shopping cart rolls on the conveyor belt provided at the checkout counter.
Solution
In the Liquor store VR application, we have integrated the Tobii eye tracker to capture the natural eye-movement or behavior in the real-world. It ensures complete accuracy and robustness for deeper insights into human behavior. It is one of the biometric measurements used as a feature to help the owner to analyze and understand consumer interest or attention. As the user picks a particular item, he can view the details of it. The owner of the store cannot edit the type, size, or color of the shelves. Moreover, liquor products cannot be swapped from one row to the other.
Our UI/UX team members design Virtual Reality Experience that is more than comfortable for the consumers to participate in the environment that you can move and control through devices. The design changes the way we behave and interact with the technology to explore user experiences. The simulation of store layouts of the VR application builds up to the consumer look and feel of the real product and scenario.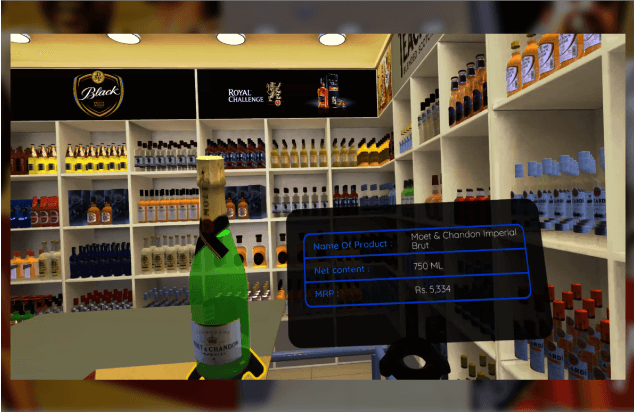 The Virtual Liquor Store enhances the user experience of shopping with the comfort of your home.
Our team of certified developers creatively worked to build a platform like a Virtual Reality Store. You can add or remove the product from the cart as per the choice. The virtual store is operated by controllers of the HTC Vive. As you sign in, the user can view different rows organized with various Liquor brands. We have developed a complete virtual store of liquor with real-world shopping capability or features.