Yudiz is a popular website development company with several adroit PHP and Mean Stack web developers who leverage their expertise to deliver impeccable solutions. We create e-commerce portals, web applications, and social networks with robust user experiences within deadlines. Our best-in-class functionality and ability to develop tailored solutions makes us an ideal web development partner.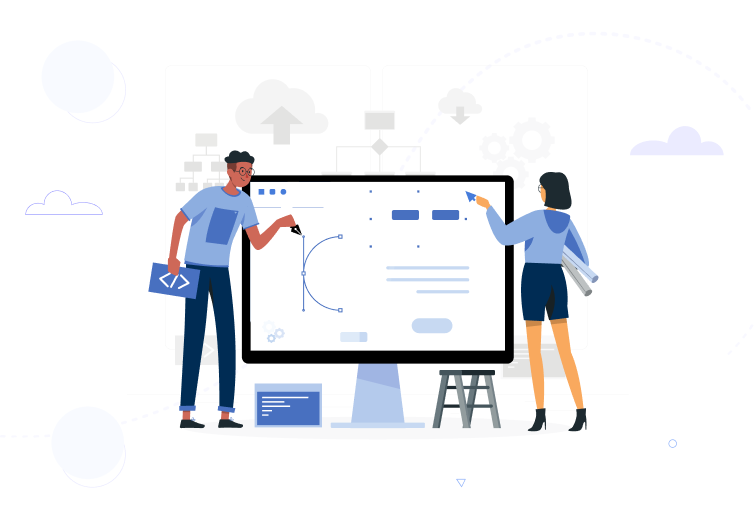 Decades of experience in helping customers with accelerated digital transformation. Hire a website developer who promises thorough understanding of digital customer journey. They should be well versed in delivering efficiency and experience in building innovative custom web solutions. Their custom website development expertise will ensure retention of large list of clients providing testimony to our success across industries & geographies. No doubt, you need a high-quality team of web development consultants and engineers who can adhere to flexible engagement models to ensure continuity and agility
Custom Website Development
Yudiz is a prominent web development company in India, offering a plethora of custom-built websites, portals, and applications. We leverage cutting-edge technologies to deliver custom applications based on advanced frameworks and by adhering to time-tested methodologies.

UI/UX Design
Our UX design services drives UI design that redefines the interface in terms of features, functionalities, and aesthetics. Our team of UX designers utilize their experience and expertise in web design to propel user experience with every module in-line with business goals.

Custom Web Applications Development
Our custom web app development services provide tailored web development services that meet business requirements to the tee. Our solutions and apps are customized to align with business objectives.
REST API Development
Our REST API development services provide flexibility and scalability with enhanced modular architecture, facilitating the ease of integration with variety of components and solutions.

Opensource Framework Experts
As a veteran web and mobile app development company in India, our expertise in open-source frameworks like PHP has provided fillip to the best of clients.

Hire Web Experts
Hire a team of dedicated developers to scale your team, bridge the skills gap and meet sudden spike in demands.

Progressive Web Apps
Progressive web app development & design services to build high-performance & secure applications that run seamlessly across all platforms.

Education
Our comprehensive solutions for the education sector span web and mobile apps that facilitate interactive learning, while managing systems that take care of routine operations.

Retail
We create custom-designed retail and ecommerce websites that have a strong edge over competitors, having delivered POS systems for retailers to outstanding ecommerce portals for diverse categories.

Travel
Our team at Yudiz works with travel companies and is keen to propel technology solutions for every trip. Our travel tech solutions enable visitors to feel that they are already exploring a new world with audio-visual apps and more.

Social Networking
Our social networking solutions enables groups of people to form a network and benefit from portal attributes like Real Time messaging, Rewards, discounts, Surveys, and more!

Entertainment
Our entertainment web apps pool and compile videos of interviews, multimedia, animated shows, new stories, reality shows, and more with immediate editing possible!

Business
Our business web apps aim to simplify business operations with skill and dexterity, utilizing technology to easing their transactions, records, and other details.
BADGE WE LIKE TO WEAR
Our Clients
Look at our Dynamic Portfolio
Our Projects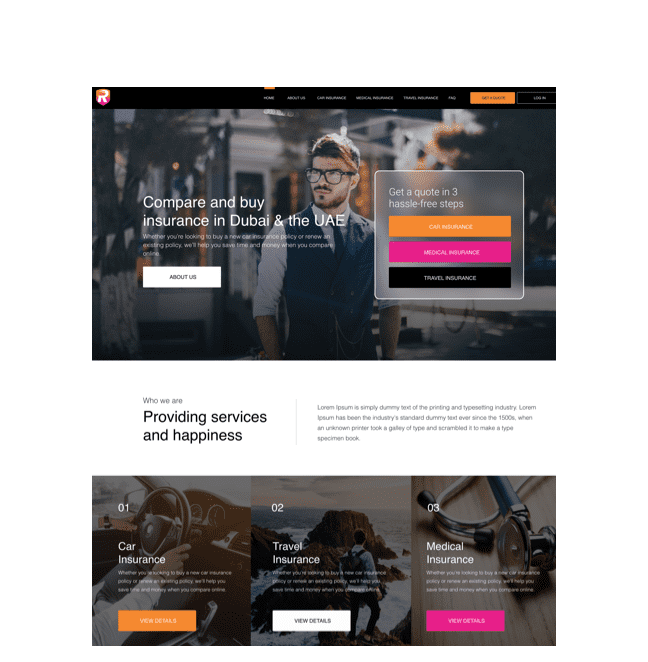 Rapid Insurance
Web
The website offers specialized motor insurance service quotations partnered with more than 18 of the best insurance providers in the…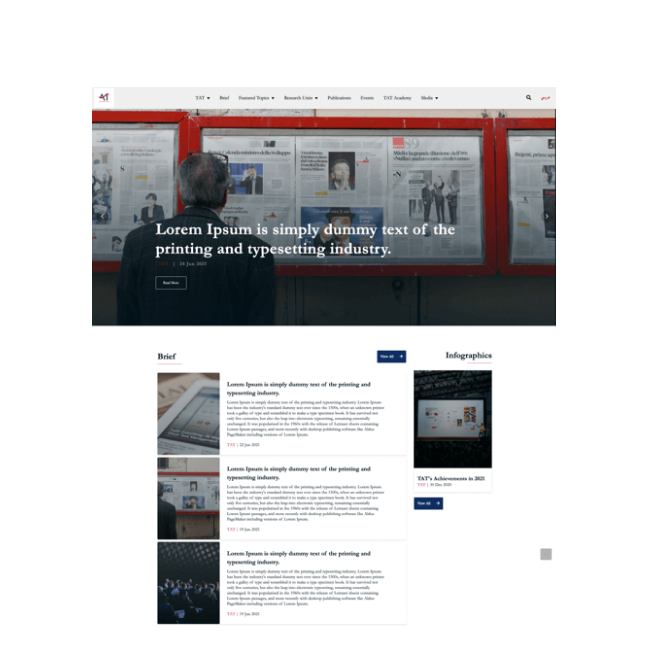 The Arabic Times
Web
Many times, we often receive fake news through Whatsapp messages or other sources and, it's very important to assure if…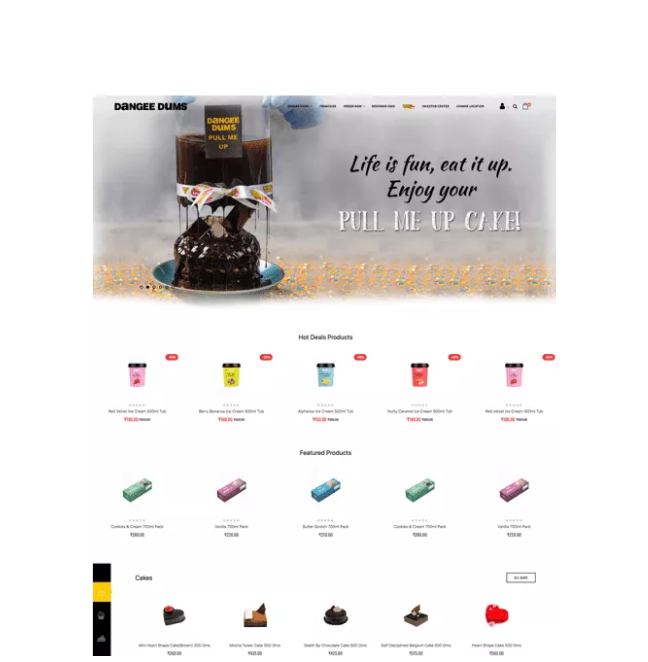 Dangee Dums
Web
Dangee Dums has been well-known for its yummy chocolates, cakes, cookies, ice creams, and more and is a successful brand…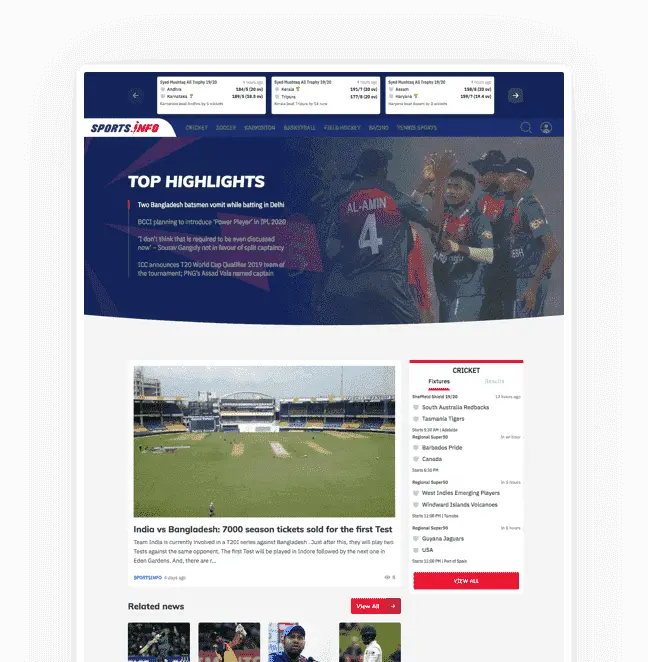 Sports info
Web, UI/UX Design
As the name defines, it is a sports news platform streaming scores, live matches, alerts, and news. The news feed…
You can contact our representative for a quote and then we do requirement analysis after you are absolutely fine with the quote. We then prepare a framework with a suitable development timeline.

The cost involved could change from project to project. It also depends on the engagement model that is finalized for the project along with the number of professionals in the project for a specified period.

Our development process is simple that the branding can be left to the exports. But when one sees the entire race

Initiation of the project
Requirement Analysis
Design of the app (Look for eggs
Development of the app
Testing and QA aligned with project interests

You can bank on the company's experience without hassles. With years of experience in diverse web technologies, the team can deliver a website or web application that meets all requirements to the tee.

The timeframe for website development – it takes 2 to 3 months to nail the website with incredible navigation features, design elements, and functionalities. The timeline is dependent on the feature base of the intended website. Ecommerce portals are dependent on the approvals of payment gateway integration along with the number of products in each category

Yes, Yudiz always offers maintenance and support post deployment for its clients, enabling additions and tweaks to the website attributes based on real-world scenarios, through pertinent change requests.

Yes, we also offer ancillary SEO and SMO services through our partners for clients who need digital marketing efforts to get them better visibility and leads for their business.