As Artificial Intelligence is in the growing-demand from startups to enterprises in the industry, we always work closely with clients to understand their vision regarding the project and curate competitive solutions that stand out. As a veteran Artificial Intelligence Development Company, our highly-professed team of AI experts deliver a spectrum of AI/ML development services and take strides with business organizations to build AI-powered applications.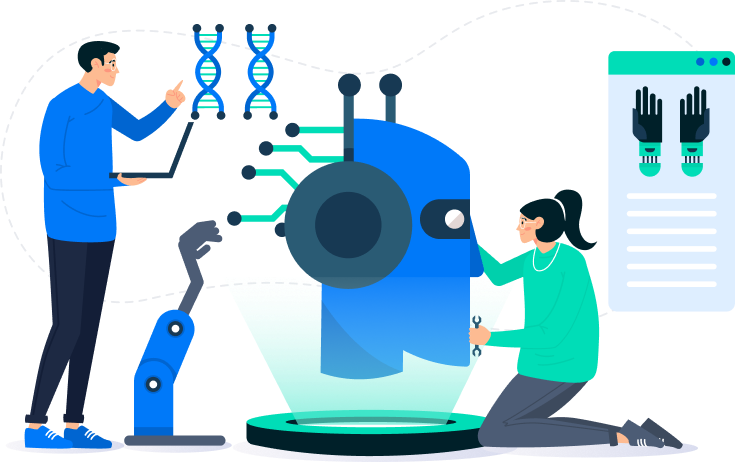 Relying on the principles of customer-centric development, hire AI developers at Yudiz who can create intelligent AI/ML-based solutions that help your business deliver a truly intuitive experience to customers, utilizing the power of AI through multiple applications.
We are a sought-after name in the field of AI/ML development with a strong portfolio of AI/ML-based projects. Hire our ML Developers to deliver artificial intelligence development services to churn out chatbots, algorithms, computer vision software, recommendation engines, intelligent security systems, virtual assistants, and more.

AI-Based Solutions
We build the most sophisticated AI and ML-based algorithms for different industry-specific business automation needs. We create powerful algorithms to ensure a smooth digital experience through intuitive digital interactions.

Chatbot Development
We build intelligent chatbots with an intuitive conversational interface to help you market your services and products and provide customer service. The intelligent chatbots created by Yudiz help facilitate meaningful interactions with customers across business niches.

Business Process Automation
Our team of AI experts improves business efficiency through Computer Vision Services to design models that can capture and recognize images to process and classify visual data. We also analyze images with attribute recognition and object classification to detect real-time objects or people and retrieve understandable insights.

Intelligent Recommendation Engine
We are the pioneers of deploying Deep learning techniques, the growing subset of Machine Learning. At Yudiz, we continuously excel to render best-in-class Deep Learning services for our clients by managing complex datasets through neural networks to extract accurate patterns of data and understand the relationships.

Voice-based AI
We build powerful voice assistant solutions equipped with machine learning and natural language processing capabilities. The AI-based voice assistants created by us help facilitate the most intuitive and highly personalised voice interactions for a seamless customer experience.

Computer Vision
Yudiz is a well-known artificial intelligence development company that is capable of creating a multitude of software products based on image recognition involving complimentary expertise. We leverage computer vision technology to help digital interfaces across niches automate object detection.
Our finance apps constitute a lender and borrowing platform based on Ethereum based on Smart Contracts management and a robust and secured digital wallet that supports trade of cryptocurrencies.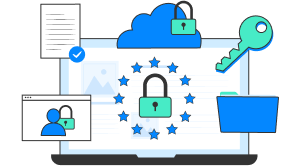 We delivered blockchain-based ticketing system that incorporated security protocols for safe trading of assets bound by business-specific rules with utmost privacy.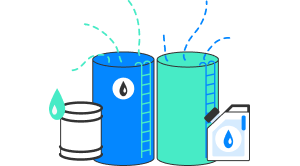 Our talent acquisition platform leveraged Hyperledger technology to furnish a comprehensive job discovery and human resource management portal, rolled into one.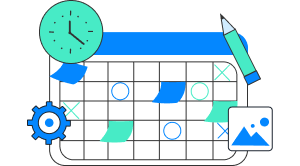 Our crypto trading app establishes a secure platform for users to buy or sell cryptocurrencies and explore multiple transaction methods including the use of free digital wallets.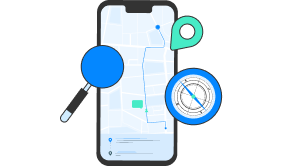 Healthcare
In the healthcare sector, corresponding to the increasing demand of intelligent automation we develop AI powered healthcare management systems to streamline medical reporting, billing, resource and inventory management and treatment processes.

Manufacturing
Yudiz develops powerful AI based machine automation software and deep learning algorithms to streamline manufacturing processes ensuring least manual errors, optimum productivity, superior quality control, better resource management and higher return on investment.

Finance
For banks, financial institutions, investment companies and insurance sector we leverage AI and machine learning technologies to develop intuitive, intelligent and data-driven software systems for fraud detection, predictive financial decisions, risk-free claim settlement, etc. 

Education
At Yudiz, we leverage our time-honoured expertise in AI and ML technologies to develop highly individualised e-learning systems capable of addressing personal learning needs, learning difficulties and evolving learning approaches.

M-Governance
By leveraging artificial intelligence (AI) and machine learning (ML) we help administrative and governmental systems smarter and agile to take prompt decisions based on data-driven insights, optimise public safety through real time analysis of anomalies and deliver faster solutions where it's needed.

Transportation & Logistics
Yudiz offers robust, agile and intelligent transportation and logistics applications powered by AI and ML technologies to help real time traffic data tracking and analysis, data-driven route mapping, fast-paced and personalised delivery and reduce process bottlenecks.







BADGE WE LIKE TO WEAR
Our Clients
Through the implementation of artificial intelligence (AI) and machine learning (ML) for your business app you can leverage the power of intelligent customer interactions and smart automation to ensure more efficiency, customer satisfaction and business conversion.

We use Artificial Intelligence (AI) and Machine Learning (ML) services to create intuitive customer-centric applications that cater to particular business needs. By using AI and ML technologies we develop powerful algorithms, intelligent and interactive chatbots, computer vision programs, smart automation systems, recommendation engines and many more.

With our expertise driven artificial intelligence and machine learning services we build intuitive and customer centric solutions for a whole array of industries including retail and e-commerce, finance, manufacturing, healthcare, transportation, logistics, education and many more.

The cost of developing AI and ML based solutions largely depends upon the project requirements and complexities, the required tools and software, need of expert resources and the hours needed to make the project live. Just feel free to discuss the requirements and cost factors for your AI/zML based project.

Just like the cost factor, the ease of builfing an app is a key factor in the time required by a project. Apart from complexity and features, toolset and software as well as the size of the team, experience and exposure of the team with some AI/ML project will also matter for the development time.

Among the multitude of the technologies that always help shaping an intuitive user experience through AI and ML Deep Learning Libraries, Natural Language Processing, voice recognition, face detection and many more.,

We provide round the clock support for each of our app project and particularly focus on fine-tuning apps with consistent maintenance. We help AI/ML based apps to frequently update value additions and changes and make solutions more customer-centric.

Whether you want to deliver customer centric solutions based upon real time business insights or you want to unleash an intelligent recommendation engine to boost business conversion or whether you need interactive and intuitive chatbots to deliver quick and effective customer service, AI and ML technologies can benefit any business irrespective of the niches.