A Creative Game Development Studio
Our goal is to scale peculiarly standardized HTML5 gaming solutions that are dedicated to curating your game styles into reality. With our veteran game developers and designers our gaming solutions rightly stand out to the creative styles of the times.
HTML5 Game Development Services that Empowers User-Engagement.
Our HTML5 game development services are feature-fledged to enrich the user experience and engagement extensively. With that it is our endeavor at Yudiz Solutions Ltd to deploy empowering gaming solutions which are future driven and facilitative to the core.
HTML5 Game Development
Our team of professional HTML 5 game developers at Yudiz incorporate standard features like excellent audio, animation, graphics with optimum user-efficiency for curating engaging game apps to render you an experience like never before.
HTML5 Mobile Game Development
With a potentially extensive experienced team of developers we as HTML5 game development company optimally curate high-end HTML 5 mobile game apps which are adaptable, glitch-free and hosts highly intuitive game storyline for you.
HTML 5 RMG Game Development
As a RMG certified game development company we provide extensive security provisions on our HTML5 game apps. Additionally, we adhere to regulations that rightly assist the clients skills and make them earn through our game apps.
End to End HTML5 Game Development
Our team of professionals with hands-on experience in developing HTML 5 game apps assists and ensures the clients seamless integration of the entire process from launching, testing to deployment and after-sale services.
HTML 5 Design & Performance Testing
The tech expertise and the QA team at Yudiz ensures layout of classy and decent animated designs on the HTML 5 game apps. We commit and ensure promising, high functioning gaming solutions with accurate post-release support and maintenance.
Customized HTML 5 Game Development
With a plethora of cross-platform, cross-browser graphic and user-extensive HTML5 game development services, we at Yudiz have a customization niche that taps the game apps into your creative preferences at affordable rates and within a reasonable time frame.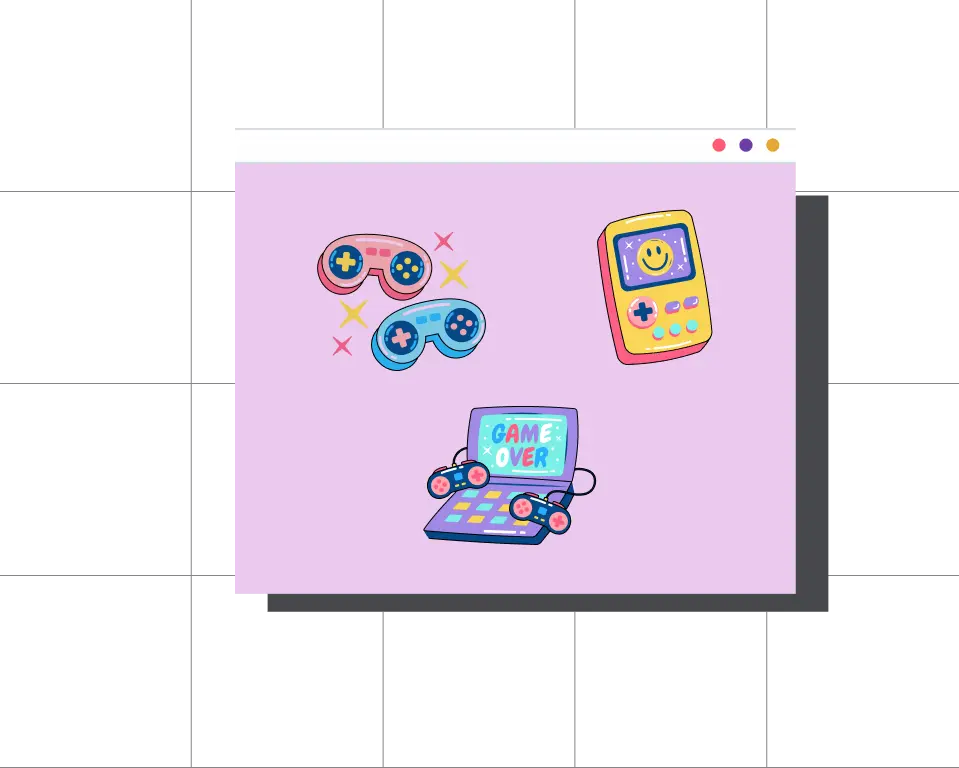 Crafting Unique Gaming Experiences. Our Approach to Game Development
01

Cross-Browser Support

The HTML5 gaming applications from our end are highly robust and compatible in terms of rendering top-performance and overall sturdy user-functionality on various web browsers.

02

Top-Notch Security Features

As a HTML5 game development company we have a strict security policy for our dynamic range of games which are consistently proven to be aiding the clients with required security protocols that enhances their gaming experience.

03

RMG Certified HTML 5 Game Apps

The real money game feature on our HTML5 game application entails a robust and reliable framework for the users to have a secured gaming experience and win real money.

04

High-end User-Interface

With high-end gaming software and engines we ensure the most flexible and seamless user-interface with utmost compatibility and modern hyper realistic gaming features are provided to the users on HTML5 gaming apps.

05

Multi-Platform Functionality

Our team of dedicated HTML5 developers have churned out game applications that run efficiently on multiple platforms like iOS and Android with equal high-end realistic displays and feature rich graphical layout for the users.

06

Customizable HTML 5 Game Apps

With our team of HTML5  game developers at Yudiz you can leverage the dynamic expertise that we host and bring your creative vision of game to life all at cost-effective customization services.
Our HTML 5 Game Genres
Our HTML5 gaming solutions taps into varied genres with cross platform and customization features to amp your gaming experience.
HTML 5 Arcade

HTML 5 Puzzle

HTML 5 Card

HTML 5 Racing Games

HTML 5 Sport Games

HTML 5 MMORPG

HTML 5 Real Money Games

HTML 5 Adventure Games

HTML 5 Action Games

HTML 5 Word Games
Solutions Helping Your Organization to Become Smarter
Our solutions are made using your ideation and our robust development process. A team of skilled developers trained with state of the art technology is ready for you to hire hassle-free. We craft solutions that build a sustainable digital presence of your organization on a global level for your targeted audience.
6000+
Solutions Developed
Want a Personalized HTML5 Game Application? Let's work together & roll out creative game apps.
Look at our Dynamic Portfolio
Our Projects
ConsciousOS
Blockchain
Join the community of millions approaching in mediation and discover the life-changing benefits with ConsciousOS.
Sports info
Web, UI/UX Design
As the name defines, it is a sports news platform streaming scores, live matches, alerts, and news. The news feed…
Money Control
Android, iOS, UI/UX Design
Money Control smartwatch app is one of the leading business and finance applications to track the latest updates on Indian…
why work with yudiz ?
Our endeavor towards high-end client-based services is actively resonated by releasing scalable and unique HTML5 game apps. Leverage our meticulous customization services by hiring our experienced team of HTML5 Game developers.
Top 3% Talent
Defined Workflow
Systemized Operation
Shared Knowledge
Customer-Centric Approach
Effective Communication
Our Blogs
Technically Speaking
21 September 2023
Game Development
Storytelling in casual games is upscaling massively. Know importance of storytelling in casual games & Visual Game Storytelling Techniques
20 September 2023
Mobile App
Instagram is disrupting the social media app development and cost to build an app like Instagram is buzzing. This blog will help decoding it.
19 September 2023
Mobile App
Enhancing physical and mental health is crucial, and so is understanding trends in fitness apps and the guide to fitness app development.
Frequently asked questions
The HTML5 game development process is not the same of all the companies and likewise the technologies used in the development process differs amongst the game development companies owing to the functionality they are rendering. At Yudiz Solutions Ltd as a leading mobile game development company we adhere to a commitment of incorporating state of art technology and the best gaming engines for our users. We do stand by that and have a standard of excellent tech set that we use in developing the range of gaming applications including HTML 5. The tech stack used includes:

At Yudiz Solutions Ltd, our expert game developers follow a process where the game framework is ready and runned through functionality, operability and QA testing, ready to be deployed for the users. Whereas, if there are any changes opted by the clients on the main framework the same would require additional time. However, we have an experienced team who dedicatedly takes up customization and delivers the same within a reasonable time frame as we strictly adhere to valuing our client's time.

Well, the cost depends on the features opted by the client beyond the main framework of the HTML5 game application. However, to know the costs of the same you can connect to us at Yudiz Solutions Ltd we offer the most cost-effective gaming solutions and we have a team who gives a free consultation and you can get a quote.

The same depends on the customization requirements and the cost varies on that basis. However, we offer cost-effective and feasible customizable gaming solutions.

Well, Yudiz Solutions Ltd, is a renowned and prominent game developers in mobile and web applications for 14+ years now, they have dedicated and standardized processes with a team of professionals in multiple genres like game developers, UI/UX designers, programmers, animators and graphic designers. Over that the ancillary services like extensive post-sale service, cost effective detailed customization services and convincing consultations are add ons.