Yudiz has a dynamic team of mobile app developers who can transform your ideas into reality, rendering outstanding solutions in the form of apps. The mobile app development company features flexible engagement models and domain-specific solutions making it the one of the top App development companies, aligned with industry trends. Hire mobile app developers who can meet client requirements, ensuring that your organization always remains ahead of the curve.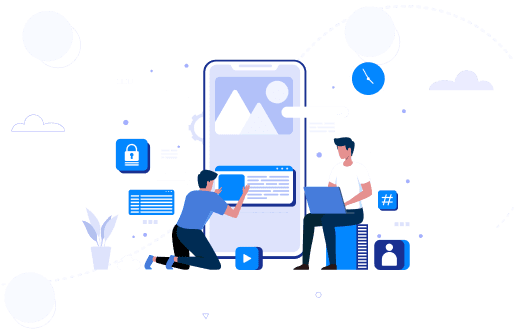 At Yudiz, we believe that your vision deserves more than just your ideas and imagination. Our team of competent mobile app developers can realize mobile app based on your requirement, within budget and within the stipulated timeline, without bugs, of course!
We strive to deliver app development services without any hassles. Our wide experience and expertise as a mobile app development company in the domain stand us in good stead in churning out outstanding apps of varied kinds. We are also committed in offering post deployment support and maintenance of the apps.
Our app development services for the iPhone and other Apple gadgets are geared towards making the best use of the platform for delivering robust and native iOS apps
Our Android app development showcases our expertise in Java and Kotlin, ensuring that we leverage latest platform features optimally.
Timely and
Detail-Oriented

Experienced with
multiple industries

Huge successful
apps

Rich portfolio

Prompt support

24/7 Response
BADGE WE LIKE TO WEAR
Our Clients
Transportation & Logistics
When we work on a mobile app development project, we work dedicatedly on it without any compromise on quality or precision. We work in teams but do not work simultaneously on multiple projects.

Our work revolves around cutting edge design for mobile apps and web apps with effective layouts for both front-end or back-end.

We consistently deliver outstanding user experience with creativity, aesthetics, utility, and professionalism in every element.

Our forte lies in making budget-friendly, yet innovative apps that meet client requirements to the tee, leveraging both native and cross-platform technologies

We deliver complete support and maintenance for the developed apps, at no hidden charges, post deployment. For extended time period, we would charge a certain fee of which we will convey before-hand.

We are flexible and scalable enough to meet expected changes and modifications to the apps and address grievances, to the best of your satisfaction.

We are available 7 days of the week and you can connect with us on any mode of communication including phone, website, email, or visit us during working offers, right to our office, as you prefer.

Our mobile app development team comprises of mobile app designers, mobile app developers, QA personnel and testers, business analysts, and a project manager for every project.