Our skilled team of mobile app developers is ready to transform your ideas into purposeful projects through synchronizing technologies. As the best mobile app development company, We aim at providing flexible engagement models and domain-specific solutions aligned with industry trends. Hire mobile app developers that ensure our clients get access to modern technological resources for achieving business proficiency.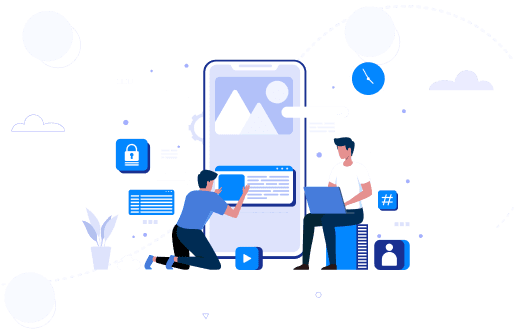 We are constantly introducing technological disruptions that act as pillars of progression for global organizations. Hire app developers who are ready to practice extensive research for you, prioritizing your development demands. Our years of experience in delivering top-notch mobile app solutions enable us to become the most reliable, innovative, and absolute service-providing organization. As a trendsetting company, we want to integrate modern technological trends with authentic modus operandi to deliver excellence. Our aim is to provide secure and scalable solutions utilizing state-of-the-art technologies.
Our app development services for the iPhone and other Apple gadgets are geared towards making the best use of the platform for delivering robust and native iOS apps
Our Android app development showcases our expertise in Java and Kotlin, ensuring that we leverage latest platform features optimally.
Timely and
Detail-Oriented

Experienced with
multiple industries

Huge successful
apps

Rich portfolio

Prompt support

24/7 Response
BADGE WE LIKE TO WEAR
Our Clients
Transportation & Logistics
Here are the few points to keep in mind while developing a mobile app:

Practicing a deep research strategy to source out new trends as well as the purpose of the application.
Deciding the category and allocating resources. For which you can hire dedicated resources too.
Listing core features and functionality.
Hire app developers that are experienced and knowledgeable.
Finalizing a design.
Approving a comprehensive platform that has all the necessary tools and technologies used for development.
Deploying the Application.
Marketing the App on various digital platforms.

On a technically fundamental level Apps can be distributed into 4 types:

Native Apps
Hybrid Apps
Progressive Apps
Web Apps

There are 9 main categories of mobile apps:

Social Media Apps
Lifestyle Apps
Utility Apps
Game Apps
Productive Apps
News Apps
Entertainment Apps
Educational Apps
eCommerce Apps

Firstly one needs to explore the requirements and goals of their application. Aligning your development demands with your adjective helps to achieve cost-effective, scalable and secure development. According to those checkboxes one can decide whether to go for Android, IOS app development or both. It is suggested that one should consider a IT-company providing mobile app development services or Hire dedicated developers.

There are numerous parameters that could affect the cost for developing a mobile app. But if you want a perfect quotation you can fill the form and our business development executive will be in touch with you. Generally it only takes about 15 mins for us to quickly go through the details of your project and revert back to you. Hire our end to end mobile app development services that help you to dominate the mobile app market of tomorrow.

We are a group of young and innovative aspirants guided by industry experts. One of our core ethos at Yudiz is to provide empirical solutions integrated with cutting edge technologies that scales with our clients requirements.